My talk on using AI to automate the little things in life
Last week at MDC 2023, I had the honor to give my first new talk in a while, not about wealth building or finance, but about... AI.
Aw, yet another AI talk?
I know, I know. But I tried to zag a little bit, so in this one, I talk about AI tools in the context of "everyday AI." In other words, using AI to make life easier and (perhaps) more fun.
In the talk, I show off using AI tools to:
Do HVAC research
Research ECM fan motors
Ask my Google docs questions and turn them into emails or blog posts
Get the latest sports gossip
Tell me about an image
Summarize YT videos
Generate voices
Write a kid's storybook
Generate prompts for another AI
Generate illustrations for the book
Design the book in Canva and see my kids' reaction
Put together Instacart shopping list in Zapier
So, the goal was to see most of the tools I use for work automation in action – but in an introductory and inspirational way that has nothing to do with boring business workflows😎
The talk wasn't recorded, but it was the first time I gave it in the "Grand Ballroom" (aka the keynote room!). Achievement Unlocked!
I thought it went well even though it started late – and then I got the feedback. 🥁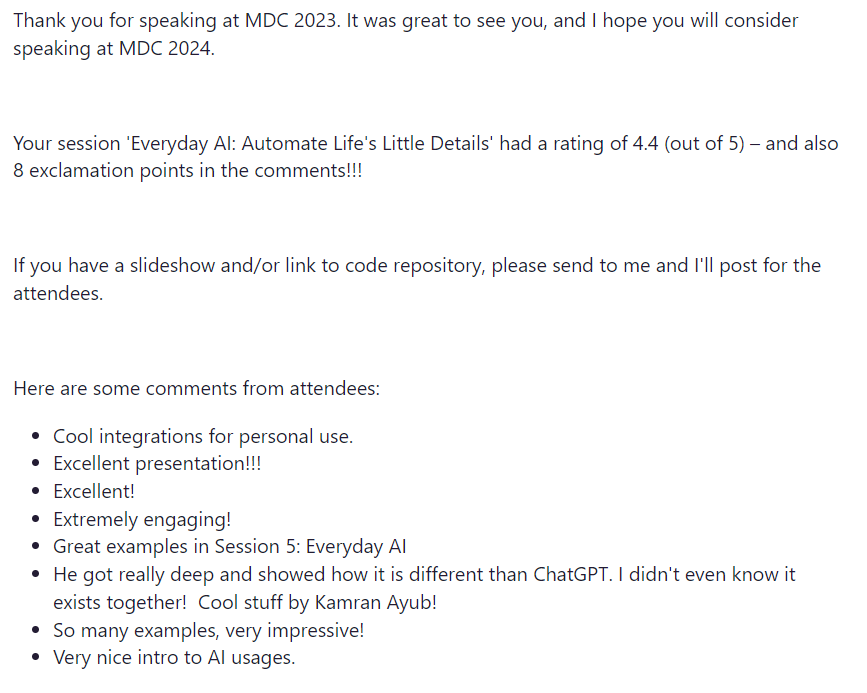 Huzzah! For a first-time talk, that's as good as I could hope for 🚀
Even though I don't have a recording, you can still get the gist by going through the slideshow PDF. It includes links to the videos I recorded, resources, documents, and screenshots of all the AI-generated responses (in case the demos failed!).

I've also submitted the talk to multiple conferences – so hopefully, that pans out, too!
Cheers,
Kamran
Enjoying these posts? Subscribe for more