👋 Well met, I'm Kamranicus!
Quitting-as-a-Service

Build the confidence to say F U to Corporate America so you can work less, earn more, and achieve lifestyle freedom.

My goal is to have a sustainable lifestyle business in the next 2-3 years. I quit my job in May 2022 and have been doing contracting/consulting since. I'm also experimenting with building and growing a SaaS.

To follow along, sign up for occasional emails on F U money tips, transition tips, and lifestyle updates.
Follow the journey
Tired of writing software 60 hours a week?
Wish you could leave your job and work for yourself?
Want to slow down and live life like a Hobbit?
What if... you could do that and still earn a living.
What if... you could actually earn more than you did at your dayjob?
That would be nice. I'm on a journey to do just that and I'll bring you along for the ride!
Ways I've Broken the Corporate Game
Life is kinda like a game but maybe that's just the way I see things as a lifelong gamer. Acquire skills, level up, min-max your stats, and become legend. That kind of thing.
For example, here are things I did during my 12-year corporate career that you may find interesting:
✅ Took 6 months off my corporate career to live in France and kept my job
✅ Took 10 weeks off for the summer and kept my job
✅ Got a 30% raise by switching jobs
✅ Never formally applied for a job
✅ Skipped the phone screening process
✅ Shadowed my team before accepting my offer
✅ Negotiated a signing bonus and kept my 5 weeks of vacation
✅ Never had a truly toxic experience and always worked with amazing people
At the time, it sort of felt like luck... but it wasn't. There was a pattern to this madness. And I intend to break it down for you.
What I Can Offer You
Transition Coaching (Beta)
When I quit, it took about two years to execute. It was mostly saving up F U Money sprinkled with a lot of mindset shifts and tons of learning. I read alllll the books (Company of One, Atomic Habits, Essentialism, Your Money or Your Life, Simple Path to Wealth, Make Time, etc. etc.) I listened to alllll the podcasts. I experimented with different paths like consulting, SaaS, and courses.
When you want to quit and you don't know what you don't know, it helps to have someone whose done it (recently) help you.
1-Hour Transition Call
Great for DIYers
Thinking about transitioning to working for yourself or building a lifestyle business? Not sure what options are available or where to go to find vetted resources? Feel like you can figure it out if you just knew where to look?

Don't waste time scouring the Internet for generic advice. Whether you are looking to start a SaaS, move into consulting, become a freelancer, or create info products, I have done those things and have a pile of resources that will help you get there faster.

Spend an hour with me and I'll point you in the right direction so you can take it from there.

This is currently free while I test with beta clients.
Apply Now
Transition Planning
Great for tech professionals who want a clear roadmap
I work with you 1-on-1 to create a transition plan you feel confident in executing. This includes: making time to think, understanding your asset stack, going over your finances, finding resources you'll need, identifying obstacles in your way, what to do after quitting, and overcoming limiting beliefs.

This is currently free while I test with beta clients.
Apply Now
Multiple Newsletters
Trying to replicate everything I've done probably won't scale. So instead I focus on identifying patterns, strategies, and tactics that will scale in my Quitting-as-a-Service newsletter. Not just in my life but in other stories from remarkable people I follow (and learn from). And I do it with plenty of humor and gaming metaphors.
I also share meta progress updates on my journey in the Path Experiments newsletter. The 3 paths I'm exploring post-quitting:
Indie Hacker: Building a small SaaS business
Consulting: Selling my expertise (which might be freelance/contract to start)
Training: Producing paid courses for Pluralsight or other platforms
Newsletters
I send short emails and occasionally longer ones a few times a month that will help you get closer to saying F U to Corporate America. You can also subscribe to progress updates on my experiments.

Summer schedule is greatly reduced to practice what I preach.
Sign Up for Newsletters
If you have questions or want quick advice for your situation, hit reply to any email and I'll get back to you!
Bundled Knowledge
I also give talks that "bundle up" the things I share, like my popular talk on financial design patterns so you can save up F U Money.
Where to Start
Here's a good place to start. It explains the underlying concept that seemed to drive most of my success in my career. Not acting like an employee but more like a consultant: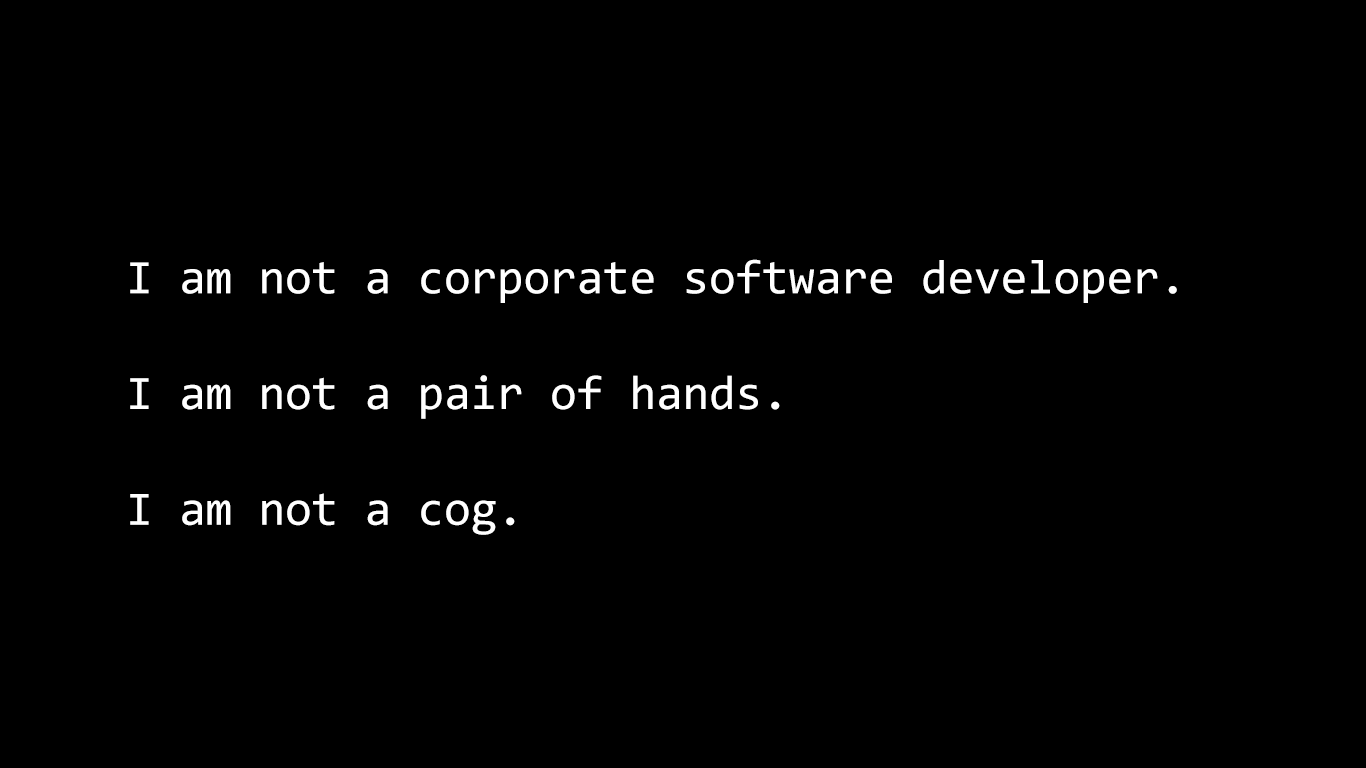 Earn more, work less
Most developers will quit and then continue writing software by freelancing and contracting. This is trading time for money. You'll find yourself working the same amount of hours and still wish you could quit.
Wouldn't it be great if you could avoid that and earn more while working less?
Choose your own adventure
Instead of contracting and freelancing, you could quit and...
Do solo consulting
Build an indie SaaS
Launch a startup
Work for a smaller company
Retire early
Lifestyle freedom is about having options.
To do most of this, you need another set of skills most developers suck at: business skills. Marketing, sales, finance, accounting, and relationship building. You don't have to be an expert but you need to know enough to own your own business.
The steps
You can do the steps one at a time or all at once, whatever you want.
Buy yourself time – manage your finances to build an exit plan
Get comfortable with yourself – see past limiting beliefs and get into the right mindset
Build your expertise – specialize and find a niche where you can stand out
Learn business skills – to run your own business you need to understand enough about marketing, sales, accounting, and finance
Become essential – have the confidence to ask for perks like sabbaticals, leaves of absence, or flex scheduling
Help others – share your knowledge, mentor, coach, and add value to those around you. Better yet, do it outside the company too.
How long will it take to see a difference?
Thanks to these tactics, after 5 years I was working 36-40 hours a week and we were able to take a 6-month sabbatical to live abroad in France before we had kids.
That was before everything I knew now, the tactics I could have used. Still, I never worked more than 40 hours a week at my job after 2015.
I finally quit in May 2022 because I wanted the freedom to have summers off and that was pushing it. Maybe it could have worked. 🤷‍♂️
My past life
I spent 13 years in Fortune 500 and Fortune 50 companies, from being an intern to finally quitting as a lead engineer. I've been a frontend & backend engineer in multiple stacks most of my career and did my time in DevOps doing SRE, infrastructure/ops, and cloud solution architecture.
The entire time, I felt like this was never going to be the path for me long-term but at the same time, I also felt fulfilled by my career. I worked with great people, I had awesome mentors, and I would not be where I am today without the experience. When I look back, I can see how my business degree gave me an edge that other developers struggled with: I understood the value I was bringing to my job.
13 years later, I finally had an epiphany after exploring soloist consulting: this whole time, I was acting like a consultant. I never bowed to authority. I didn't drink the Kool-aid. I pushed back constantly. I didn't want my identity to be about work.
I took a sabbatical from work in 2015 for 6 months and lived in France with my wife, without losing my job. In fact, I stayed another two years.
I quit and got a 30% raise at my new role. I learned about financial independence and started accelerating our savings so we could carve out more time out of my job. I saved up F U money.
In 2021, during the pandemic, I took a summer leave of absence to be with my family.
And then, in 2022, I made "summer downshifting" my default lifestyle. My goal is simple: work less, earn more. That's why I made the pivot into soloist consulting.
The reason I was able to do all this without raising the ire of my employer, without losing my job, and without making (many) enemies was because I love to serve others: I mentored and coached others. I was a quiet leader. I built authority by giving internal (and external talks), writing for internal and external blogs, and sharing a lot of my expertise with others. I brought new ideas to my teams. In short, I (accidentally, kinda) made myself invaluable.
I couldn't quit Corporate America without sharing the strategies, tactics, and ideas that led me to have a successful career so that others can crash the system whose default function is to grind() people into a pulp.
Side Quests
Speaking & Training
I am a Pluralsight course author, you can view my current courses on the projects page or follow my Pluralsight author profile. I really enjoy teaching and sharing what I know.
I also speak at user groups and conferences, as well as host occasional workshops.
SaaS: Keep Track of My Games
I love gaming. In 2011, I started Keep Track of My Games as a way to organize my game collection and track new releases. It is now a SaaS product where I'm doing a pay-what-you-want pricing experiment.
The Elder Scrolls: Morrowind is my favorite game, I love open-world RPGs.
DIY: Looks Good to Us
I maintain a DIY and family lifestyle blog with my wife at Looks Good to Us where I blog about learning and teaching myself to work on my house.
Travel: Aix Squared
In 2015, my wife and I spent six months in Aix-en-Provence, France on sabbatical--traveling around Europe, taking pictures, drinking cheap wine, and generally enjoying life. We created a travel blog under the name Aix Squared which you can read at the following links:
At some point, I will compile all our photos and posts into a book. For now, you can read them on Medium.
OSS: Excalibur.js
Excalibur.js is a web-based game engine written in TypeScript. I work with several other talented friends on the project. The project is free and open source. I primarily help maintain the website, documentation, automation, and contribute to systems like input controls that don't require a PhD in math or physics.
I participate in game jams which you can view on the Projects page.
Headshot